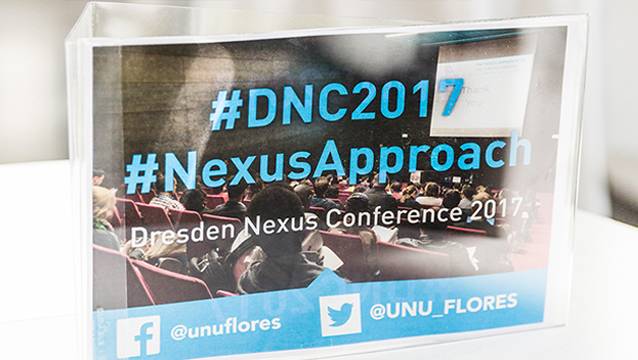 Image: Jan Rieger
During the Dresden Nexus Conference 2017 (17–19 May), participants engaged actively in Q&A sessions, parallel sessions, and the World Café, among other things. Beyond the physical sessions, discussions also took place in the virtual realm.
Two side events at DNC2017 were livestreamed on Facebook Live to over 150 remote viewers. Visit our Facebook page for the videos featuring the launch event of the Nexus Observatory collaboration and the launch of the book Multifunctional Land-Use Systems for Managing the Nexus of Environmental Resources (Springer). On Twitter, participants shared insights on the conference content using the hashtags #DNC2017 and #NexusApproach. Over the whole period, more than 400 tweets were published with these hashtags related to the conference.
Here are some highlights:
At the heart of DNC2017 was the question, how the Nexus Approach can contribute to the implementation of the Sustainable Development Goals (SDGs) and how monitoring measures are involved. In particular, the aspects of implementation and monitoring focused on examples related to multifunctional land-use systems and resource management in resilient cities and urban areas, as well as cross-thematic content.
One of the reasons why we need an #integrated approach #NexusApproach … by Nicola Fohrer @kieluni #DNC2017 #multiGoalOptimisation #land pic.twitter.com/xr2cU6vcaU

— Bettina Schmalzbauer (@bschmalzb) May 17, 2017
Lamizana-Diallo: international agencies have strength in working together & bringing specific local voices to using #NexusApproach #DNC2017

— Mitch Zuckerman (@ec0p0lis) May 19, 2017
Sabine Fuß brings the negative CO2 emission and the Climate perspective to the Nexus Conference #DNC2017 #SDG13 #2030Agenda @dkn_futureearth pic.twitter.com/I9XJcmTThg

— Martin Visbeck (@mvisbeck) May 18, 2017
Very important remark: "SDGs as common tool to bridge disciplinary boundaries." C. Kroll @ #DNC2017 #SDGs #NexusApproach

— DDoerr (@d_doerr) May 18, 2017
Enough or too many #indicators for measuring the #SDGs? The right ones?! asks @stefan_uhlenb #dnc2017 #SDG6 pic.twitter.com/E2nWpcmRjm

— Marianne Darbi (@MarianneDarbi) May 19, 2017
Third day at the DNC2017: Coming into conversation about monitoring and implementation in a World Café #DNC2017 #NexusApproach #dresden pic.twitter.com/ppDGRIYyjb

— Sebastian Eichhorn (@EichhornSe) May 19, 2017
Especially during parallel sessions, the live tweets helped other participants keep tabs on the other sessions that they were not able to physically attend.
A pity you can't be in two sessions at a time! 😬 #dnc2017 Kepp tweeting 😉 https://t.co/qRaDGV14K1

— Marianne Darbi (@MarianneDarbi) May 18, 2017
It was great to see participants take their conversations online:
Sharing ideas at the world café #dnc2017: we have to restore the circularity of thinking! pic.twitter.com/YIElS4v3dE

— Mauro Lafratta (@MLafratta) May 19, 2017
Not sure what table this was but we had similar thoughts at the implementation in resilient cities table! https://t.co/OWV8nGb8BI

— Mitch Zuckerman (@ec0p0lis) May 19, 2017
Exhibitors, too, took the opportunity to be part of the social media buzz.
Happy to be @ #DNC2017! Looking forward to meet you! #SDGs #FutureEarth #Research #Sustainability #NexusApproach #landuse #urban pic.twitter.com/eLInYZRbbC

— DKN Future Earth (@dkn_futureearth) May 17, 2017
Ultimately, it was heartening to see the spirit of DNC2017 that is going down to the human dimension – incorporating socioeconomic perspectives and connecting stakeholders – also embodied on the conference Twitter feed.
Conference wrap-up #NexusApproach #DNC17 great to meet you buddy @BasselTDaher @NEXUSPlatform @UNU_FLORES pic.twitter.com/JPias2zBVj

— Sebastian Riera (@sebariera) May 19, 2017
We would like to thank all participants who have actively participated in the conversations virtually!
3 days of #DNC2017 flew by too quickly! Hope you had a great time as we did hosting you! Long live #NexusApproach! https://t.co/rtTCAXjhnR pic.twitter.com/kga3NK5CMY

— UNU-FLORES (@UNU_FLORES) May 19, 2017
Related News:
DNC Programme Highlights: Case Studies, World Café, Excursions, and More
425 Participants, 50 Countries – Dresden Nexus Conference 2017 Opens
Putting the Nexus into Action at DNC2017
Dresden Nexus Conference 2017: It Comes Down to the People
DNC2017: Social Media Highlights
Dresden Nexus Conference 2017: It Comes Down to the People